#Howto Refresh your professional journey, in 2021
Brushing off unfulfilled resolutions is something all of us have done at some point – Right?  I have too. But, this year has tried us. And the amount it has jostled us, professionally and personally, definitely made me a non-believer of new year resolutions. So instead of resolutions I actually grabbed my cup of chai, and penned down a few points to add that much needed fertilizer on my growth path to revitalize my career in the new year. 
1. Reflect – The  year that was!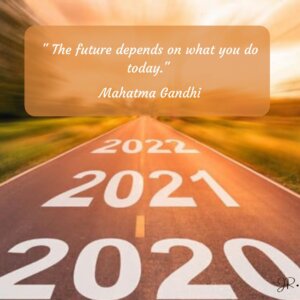 Before diving in 2021, let's take stock of everything you achieved in 2020. Sure, the pandemic was a huge hurdle, but think big, and think beyond the insane working from home schedule, about what you did, this year. 
Did you write a new article? Did you take up an online course? Try yoga? Even if you had set higher expectations for yourself. Anything you achieved in this tumultuous year, is definitely worth taking note of, and is mostly definitely worthy of a nice pat on the back.
Writing down your accomplishments will definitely help you move into the new year with a more positive mindset. Here is a blog I wrote on self-reflection, if you need a little help getting started. 
2.  Spruce up – Build/refresh your mandatory profiles. 
Gone are the times when your CV was the only accreditation of your work experience . Of course, it is still very relevant to your career, but before you enter the new year, have a look at your CV, your Linkedin Profile and other handles ( like your blog etc) that need updating and sprucing up.  Your short digital marketing course that you did on www.coursera.com should be updated in your profiles. 
3. Get inspired – Read more to to do more. 
Building a career, unlike finding a job, is a lifetime pursuit. Building a career requires dedication, both to yourself and to the work that you do. Creating a career involves persistence as it will not always be easy to find fulfilling work while moving your way up the career ladder—and these days, many career paths do not resemble a ladder at all, but rather a long and winding road.
Need some inspiration and guidance when it comes to building and navigating your own career? Put together a handy list of a few good books to read in the course of the year to get you started on the right foot or back on track if you happened to stray a bit.
I would recommend The 15 invaluable laws of growth by John c Maxwell, to be added to your list, as it really helped me! 
4. Recharge – Plan breaks & activities outside of work
While, 2021 should see some respite from travel restrictions, but even if you cannot take off on short vacays, plan your breaks. Take an online yoga lesson, learn a new cuisine or volunteer! 
If you love animals, volunteer with a rescue trust, or find a perfect vent for your OCD, join a cleanliness drive. Binging on OTT platforms can be fun but break out of the screen time -your Mac, your tablet, your phone. Absorb some time in the outdoors, where no filters are needed! 
A great organization I volunteered with is www.cry.org and you could check out if you want to as well! 
5. Maximize – Work with a coach.
The new world is different. Dynamics of hiring, job hunting, job seeking and career maneuvering is now very different. Let us not forget, that the pandemic took with it a lot of self assurance, clarity and left us all with dwindling hope. A growth coach can enable you in your goal digging journey this year. Not only will working with a coach help you define your goals more tangibly, but the various techniques & insights used will empower you to confidently maximize your potential & achieve your goals. Finding someone you connect with, will help create a symbiotic relationship to enable your success.
Here's to a refreshed start as we step into the new year! Feel free to reach out for a free introductory call – https://www.janetrajan.com/contact-me/