#InHindsight – Self reflecting the year that was!
Wow! It's the year end already. 2020 seems to have just flown by. Hasn't it?  In our current always-on culture as we hustle through the days, the year end seems like a time to take a breather and think about how we are feeling & doing. Research shows that active self-reflection strengthens our emotional intelligence, making it easier for us to cope with new challenges coming our way in the future. Especially after the kind of year we've had, who wouldn't want to be better prepared right? Of course I'm hoping 2021 is kinder to all of us, but hope isn't a strategy so let's hope but also reflect to feel more confident going into the new year.
Self-Reflection is an opportunity to critically self-examine and not to shame ourselves in any way. It's important that we reflect with the right mindset to get better clarity of our past experiences to do better in the future. So let's get started, grab a journal, or an app, whatever you find easy to work with, a nice hot cuppa, music in the background or whatever else puts you in the mood to think back. Our reflections should be a combination of what we did well and what we could have done better and how, on opportunities and challenges, and on our mental and physical development through the year. Each of these help us evolve into who we are becoming and enable us to make better decisions for our future. 
Another point of reflection might be to ponder upon what we might want to do less or or let go of. In this fast-paced world, we are all pressed for time and very often we unknowingly spend too much time on things which may be of little or no value to us. So here are a few questions to help you look back mindfully, objectively and with openness at your personal and professional journey through the year gone by, so you can learn from it and move forward more purposefully.
Personal Reflection
1)      How did I grow in the last year? What did I gain?
2)     What was a major challenge I overcame? What strengths did I lean into?
3)     Who needs to be acknowledged in my life?
4)     What was the best thing I learnt? How can I use it more going forward?
5)     What am I most grateful for? 
6)     What was my biggest time waster? 
7)     What didn't serve me well? How can I let go of it?
Work Reflection
1)      3 best work experiences or accomplishments? Can be on a project, with a team, role or activity.
2)     3 experiences I did not enjoy working on as much?
3)     What energized me in a work capacity that I talked non-stop about?
4)     What skills, talents did I develop?
5)     What might be 1 thing that I did not achieve in the last year? What could I have done differently?
6)     What are 3 essential elements of my job that make me successful?
7)     What should I do more or less of in the coming year?
Rather than carrying on doing things as we've always done them, making some time for a date with yourself to reflect on experiences definitely equips us to better face challenges, find insights, and make each day more fulfilling. And self reflections needn't be a year end ritual. Reflect in the mini-moments.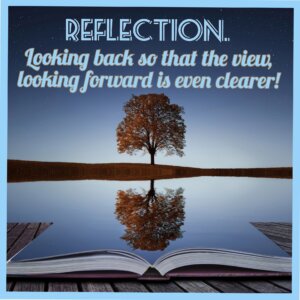 In the shower. Apply, rinse, repeat, and reflect. 
The drive to or from work. Pause that podcast, turn off the radio, and use the time — no matter how brief — think about you and reflect on the day ahead or that's just gone by. 
Running or walking. Hit the road or treadmill with healthy thoughts on your mind. 
Before bed. Reflecting on the day can actually help you sleep better. Slip into the covers, pull your journal from the bedside, and write. Swipe away that game of CandyCrush and type your reflections. Or just allow the darkness to comfort your mind while you process. 
In the morning. Wake up ready to conquer the world and set things right. Do some self-reflection with a cup of coffee and the silence of early hours. 
Reflect in ways that work for you. In writing or verbally with trusted friends or family. Find your own ways, create your own schedule for it. Reflect, learn, let go and move forward better equipped to chart your path more intentionally and confidently.